Are you thinking of a Fairbanks summer vacation? Great! The long summer days and nights in the Land of the of the Midnight Sun are not a myth! It really is light all day long for nearly a month around solstice!
There is lots of time to for all the Fairbanks summer vacation adventures we Fairbanksans enjoy all summer long ... we just get to do them after work, and at lunch, and on the weekend! Read here about a few activities and things to do on your Fairbanks summer vacation.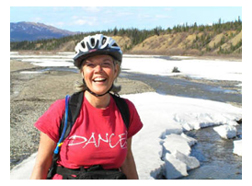 SUMMER CYCLING

Cycling in Fairbanks is wonderful even if you have little or no experience. There are lots of wonderful bike trails on fairly flat ground ~ along the Chena River for example. The surrounding hills have trails and residential paths that make for a more challenging ride. Beautiful views are par for the course so take you camera. Two really fun place to ride are UAF's forested trails ( http://www.akbike.com/UAF-trails.html ) and at Birch Ski Hill ( http://www.akbike.com/birch-hill-trails.html).
Outside of town? ... Cycle in the wilderness on old mining roads ( http://www.akbike.com/trails1.html ) and trails that are close by (the "wilderness" is right here!), They are waiting to be explored. A short and scenic 2-hour drive in May will get you and your bicycle to Denali National Park. You want to go before the tour buses start up in the Park so you can ride from Teklanika to Polychrome Mountain on roads that take you to the home of all kinds of wild life. This photo of me was taken on that ride!

Interior Alaska has an awesome combination of great weather, paved bike paths, dirt roads, and trails. A great place to bicycle during the summer months! You can rent a bike from my friend Larry at Alaska Outdoor Rental (http://www.akbike.com), located on the corner of Peger Road and the Chena River (tell him Terri sent you!)


---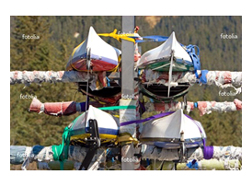 PADDLING IN INTERIOR ALASKA

If you are new to paddling you ought to join the Fairbanks Paddler's Club ( http://www.fairbankspaddlers.org/ ) for a leisurely Wednesday evening social float through "Urban Fairbanks" on the Chena River. The float ends with a picnic at Pioneer Park and Fairbanks Paddlers love to visit with newcomers to paddling or to Fairbanks. If you are more experienced, it will be a great way to meet thrill seeking Alaskan paddlers who know their Alaskan rivers. Wednesday evening floats are a wonderful Fairbanks summer vacation Fairbanksans get to experience all summer long!

Are you into Class III thrills? Then you might want to do the Upper Chena or the Nenana River. There are lots of choices in between. And there are lakes for paddling all around the Interior as well. Check out Paddlers 101 (http://www.fairbankspaddlers.org/Old/paddle101-2002.htm) to help you figure out which paddling trips around Fairbanks Alaska might be for you.

At least a couple of times every summer we do the "Booze Cruise" on the Chena River. So named, not because we get plowed with booze, but because we stop along the river at local dining and drinking establishments for a little nip, mabye some horseshoes, and a visit at the Boatel, Chena River Resort, Pike's Landing, and the Pump House.

You can rent your boats from Larry at Paddler's Cove (on the corner of Peger Road and the Chena River). He will even help you set shuttle. And a local boy scout set up a "kids don't float" program that provides life vests at most put ins and take puts along the river.

You have to do this! A TRUE Summer Adventure!


---

FISHING

Everyone who likes to fish knows that salmon are in the waters of Alaska. Here are a few lakes, rivers and streams and what you may catch there. You'll need a boat for some, but not all of these.

Chena River (Arctic grayling); along the Steese Highway (northern pike, grayling, burbot, sheefish, king and chum salmon); along the Elliott Highway (grayling, pike, sheefish, whitefish, king and chum salmon); along the Dalton Highway (Arctic grayling, Dolly Varden, lake trout, burbot and northern pike); Moose Creek and Piledriver Slough (rainbow trout, Arctic grayling, northern pike and burbot); Little Salcha and Salcha Rivers (Arctic grayling, rainbow trout, Arctic char and silver and king salmon).

Harding Lake (Arctic char, lake trout, burbot, northern pike and salmon); Chena Lakes (rainbow trout and silver salmon); Birch Lake (rainbow trout and silver salmon); Quartz Lake (rainbow trout, silver salmon and Arctic Char). You'll be talking about this Summer Adventure for YEARS!

Find out more from the Alaska Department of Fish and Game website, where you can even


---

NIGHTLIFE

We have world class music and eclectic dancing tastes here in the Interior of Alaska. Lots of choices for nightlife in Fairbanks depending on your tastes and your style. For a rustic Alaskan atmosphere with great blues, rock n roll and even some Celtic fiddle music on occasion, try The Howling Dog Saloon in Fox. If you like Hip hop head out to the Blue Loon off the Parks Highway.

Cowboy music at the Silver Spur (except early Saturday evening when we have everything from Blues and Big Band to Rock n Roll for Swing dancing). The Marlin is pretty has some live music, a youngish liberal atmosphere (not really much room to dance, but we sometimes give it a shot when the music is irresitable).

Two Fairbanks favorites that have more touristy Alaskan feel are the Pump House off Chena Pump Road and Pikes Landing across the river near the airport. They don't have live music but you can put in or take out you canoes and kayaks at both spots. Both river decks are nice the food is fabulous. You can do karaoke or play pool in the Senator's Saloon at Pump House or enjoy the fine dining inside. And Pike's has both a sports bar and a fine dining section too.

Alaskans love to dance! Dancing with the locals is a great way to have a fun Fairbanks summer vacation! Get the details on the WhyFairbanks.com Dancing in Fairbanks page. There are lots of places to enjoy a huge variety of dancing; from Swing and Tango to Line Dancing and Salsa, from Waltz and Foxtrot to Hip Hop and Rock 'n Roll. Dancing is a year round activity and we love newcomers and visitors to join us on the dance floor.






Leave Fairbanks Summer Vacations and Return to Home Page